013 CIFF reveals program
13 September 2021
The 013 Cinecitta International Film Festival has revealed its full slate of films for its third, expanded, edition, taking place from Wednesday, 13 October through Sunday, 17 October at Cinecitta Tilburg. Running over five days this year (instead of four) and featuring 17 films (instead of 13) from 15 countries, the line-up contains 10 Dutch or Benelux premieres and one European premiere. Of the 17 films, eight are directed by women. See the website – 013CIFF.com – for full film information and schedules. Tickets go on sale via the website and the Cinecitta box office at 18:00 tonight. Festival passes are also available from the Cinecitta box office from 18:00 tonight. 
Opening the Festival on Wednesday, 13 October, at 19:30 will be the Dutch premiere of the crowd-pleasing Swiss satirical comedy My Wonderful Wanda from director Bettina Oberli. Closing the Festival on Sunday, 17 October, at 19:00 will be the Berlin Competition FIPRESCI (International Critics) prize-winner What Do We See When We Look at the Sky? from Georgian director Alexandre Koberidze. Guests: TBA  
The Program: 
Opening Night – My Wonderful Wanda – Switzerland – Bettina Oberli – Dutch Premiere 
Closing Night – What Do We See When We Look at the Sky? – Georgia –  Alexandre Koberidze 
Azor – Switzerland – Andreas Fontana – Dutch Premiere 
Bad Tales – Italy – Fabio & Damiano D'Innocezo – Dutch Premiere 
Bebia, à mon seul désir – UK – Juja Dobrachkous 
The Book of Delights – Brazil – Marcela Lordy – European Premiere 
Brother's Keeper – Turkey – Ferit Karahan – Dutch Premiere 
Celts – Serbia – Milica Tomović – Dutch Premiere 
Madalena – Brazil – Madiano Marcheti 
Moon, 66 Questions – Greece – Jacqueline Lentzou – Dutch Premiere 
Moving On – South Korea – Yoon Dan-bi 
No Choice – Iran – Reza Dormishian – Benelux Premiere 
No Rest for the Old Lady – Romania – Andrei Gruzsniczki – Benelux Premiere 
Pebbles – India – P.S. Vinothraj 
The Siamese Bond – Argentina – Paula Hernández – Benelux Premiere 
Souad – Egypt – Ayten Amin 
A Voluntary Year – Germany – Ulrich Köhler, Henner Winckler – Dutch Premiere 
The Festival is also very pleased to announce that two directors have already confirmed their attendance. Reza Dormishian will be on hand to present his hard-hitting social drama No Choice on Thursday, 14 October, at 19:00 in Cinema 1, and Henner Winckler, co-director of the wryly comic A Voluntary Year, will present the film on Saturday, 16 October, at 21:15, also in Cinema 1. Both will engage in a Q&A with audiences after the screenings. The Festival expects to announce more guests soon – see Festival News on the 013CIFF.com website for updates. 
'After a very hard year in the world of cinema, we are pleased to bounce back with such a strong line-up of films,' said Festival Director Jack Vermee. 'And we are extremely happy to present them the way they were meant to be presented: not online but on the big screen in the company of cinephiles. The titles run the gamut from comedies to mysteries to humanist dramas, so there is, indeed, something for everyone in the program. And, finally, we are proud to have programmed eight films by women directors—as close as you can get to 50% in a festival with an odd number of titles!' 
The Festival is also pleased to announce a 'Lunch with the Filmmakers', wherein the first 15 lucky local filmmakers to buy tickets will have the chance to eat and share film experiences with the guest directors and actors in attendance at the 013 CIFF. 
The free, handy pocket guide—with all film and schedule information, in both English and Dutch versions—is published this week and will be available at Cinecitta as well as at venues in Tilburg and the region.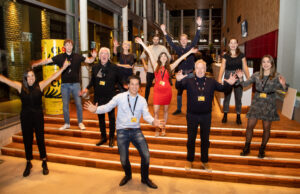 Back to festival news