THAT'S A WRAP! – 'CLOSE' IS THE MOST POPULAR FILM AT THE 013 CINECITTA INTERNATIONAL FILM FESTIVAL, FOURTH EDITION
1 November 2022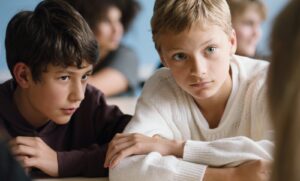 The winner of the Audience Award for Most Popular Film at the 4th edition of 013 Cinecitta IFF is Close, from Belgian director Lukas Dhont.
The fourth edition of the 013 Cinecitta International Film Festival took place from 26 to 30 October. A program full of gems made for a memorable five days. As the big winner, Close, about a ruptured friendship between two 12-year-old boys, will see a cash prize of €1,500 going to director Dhont.
The second and third prizes (€1,000 and €500) went to directors Fabien Gorgeart for The Family and Ali Asgari for Until Tomorrow, respectively. Asgari was on hand to receive his award from festival director Jack Vermee and festival administrator Jasper Naaijkens at the Closing Night awards ceremony last Sunday night.
A Big Success
The fourth edition of this unique, boutique film festival is being looked back on with great pleasure and pride. A heartening surprise was the turnout: with a goal of 1,200 spectators seen as the gold standard for this year, the actual number of tickets sold was beyond even those hopes. This year the 013 Cinecitta International Film Festival attracted 1,694 visitors – and that does not include the 100+ invitees who attended the Opening Night screening. Wow!
Audience Award for Most Popular Film
The 013 CIFF Audience Award for Most Popular Film asks audience members to rate films from 1 to 5 after each screening. On Sunday evening, the total votes were counted and Close scored 4.68 followed by The Family at 4.31, and Until Tomorrow at 4.28 A hearty congratulations to all!
The Fifth-Anniversary Edition of the 013 CIFF
Due to the great success of this edition, the festival staff can't wait for next year! The date has now been announced: the 5th-anniversary edition of the 013 CIFF will take place from Wednesday, 18 October, to Sunday, 22 October, 2023. Next year, the festival hopes to again welcome many directors and actors of the films on offer. The festival hopes the Q&As and Meet & Greets with directors and actors from next year's 17 chosen films will once again be at the heart of what is a uniquely cozy film festival.
Back to festival news