Contact
013 Cinecitta International Film Festival
Willem II straat 29
5038 BA Tilburg
The Netherlands
+31 85 9022996
contact@013ciff.com
Getting here
Cinecitta is just a few minutes walk from Tilburg Central Station.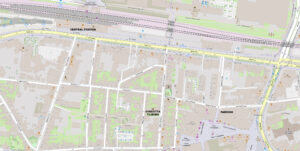 Bike
Stow your bike for free Mon – Sat 7:30am to 10:00pm and Sun 10:00am to 7:00pm in the bicycle shed at the Pieter Vreedeplein Square (Entrance on IJzerstraat). If this is not convenient, the free bicycle storage HEUVEL (entrance opposite the cathedral) is an alternative. This is open daily from 7:30am to 4:30am.
Car
Park your car in the parking garage at the Pieter Vreedeplein (navigation: Telegraafstraat 20)
Opening hours:
Monday to Saturday from 7:00am – 4:30am.
Sundays and Public Holidays 10:30am – 4:30am.
Rates €2.00 per hour with a minimum of €0.50.
All-day parking costs €16.00.
After 6:00pm, the parking garage charges €6.00 for the rest of the evening.